YAS-TEX landing the first ISPO Shanghai exhibition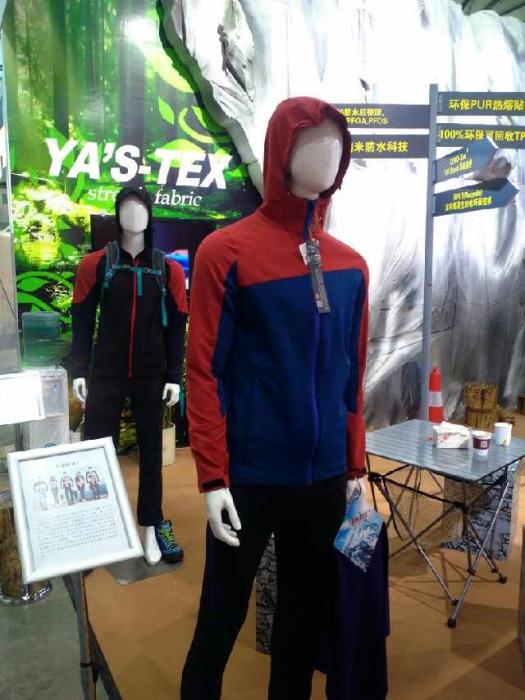 The first ISPOSHANGHAI will be held at the Shanghai New International Expo Center (SNIEC) from July 2-4, 2015 (Thursday to Saturday). The summer show reflects the seasonal demand for the sporting goods industry in the Asia-Pacific region, and is another feast for the Munich International Expo Group for the outdoor sports market.
As China's outdoor sports stretch fabric research and development brand YA'-STEX, will be in the N2 Hall 2.172 booth display the latest fashion technology sports fabrics. One of the biggest design highlights is the simple booth design breakthroughs in the past YA'S-TEX brand impression, outdoor wall 3D stereoscopic modeling and real elements show a challenging outdoor sports environment, but also to make the booth with outdoor features. YA'S-TEX brand designer for this exhibition to do an outdoor sports experience of the fabric evaluation, with the model static modeling outdoor sports fabric application of professional clothing with, highlighting the newly developed fabric advantage. At the same time, by the YA'S-TEX and cool equipment with the outdoor evaluation video will also be broadcast in the show, a well-known outdoor alumni outdoor evaluation, fully experience the outdoor sports stretch fabric strong design features, free stretch, comfortable wear , Excellent waterproof and other functions in the outdoor experience in the performance was very good.
YA'S-TEX brand will be China's outdoor sports stretch fabric and professional outdoor sports closely to the outdoor fashion design into the fashion technology creative inspiration, will be in ISPO SHANGHAI in the widespread concern!